[jwplayer 18QegcJn-sNi3MVSU]
---
Fresno State Basketball: Bulldogs Add Another Local Transfer To Their Backcourt
---
Junior Ballard transfers to Fresno State to be closer to home and with something to prove.
---
Contact/Follow @HardwoodTalk & @MWCwire
Cal Poly's returning leading scorer is added to the roster as a great late addition for the Bulldogs.
The commitment to building the Fresno State men's basketball program with the injection of local players continues to be put on display by now third year head coach and Central Valley native himself, Justin Hutson. Central Valley pride is very much a necessity for those coaching and playing at Fresno State. 
The program's latest addition ensures fans players from their community are still given the opportunities necessary when it comes to dawning the Cardinal Red and Blue. 
Junior Ballard is a 6-3, guard from Stockton California, but attended Modesto Christian School in nearby Modesto for all-four years of high school. The former leading scorer at Cal Poly announced his intention to transfer to Fresno State this weekend over twitter. He is coming off a sophomore year where he averaged 13.1 PPG, 3.7 RPG & 1.4 APG while shooting 35.7% from deep. 
The Mustangs struggled in John Smith's first season in charge in San Luis Obispo, failing to secure double-digit wins for the third straight year and finishing last in the Big West. Ballard was set to help lead a re-surging young core for the Mustangs next season in an attempt to lead Cal Poly out of the Big West's basement. 
That didn't appear to be a part of the soon to be junior's future plans, as he entered the transfer portal back in mid-July. Immediately he built a relationship with head coach Justin Hutson whom he played against back in on December 14th inside Mott Gym.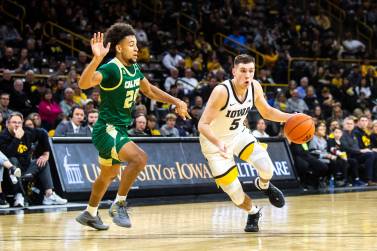 Returning to the central valley isn't unique to Ballard's situation, as coach Hutson and his staff have also welcomed Isaiah Hill from Tulsa and Deon Stroud from UTEP. Both players are also from the Valley and opted to return closer to home after productive freshmen campaigns elsewhere around the country.
All three players are currently classified as sit-out transfers who would need waivers from the NCAA in order to play this season in Fresno. The everlasting preseason joke of "hey the NCAA is handing out so many waivers, I got one" used by fans this time of year hasn't gotten old just yet. Although many thought players who transferred closer to home would be receiving them in droves due to the ongoing Covid-19 pandemic.
Bulldog fans will just have to wait and see, but the trio would definitely be welcomed to the nightly rotation with open arms.
There was plenty of roster turnover in Fresno this offseason, and the current roster could definitely use some veterans with proven production at the division-I level.
As it currently stands, Fresno State has one open scholarship spot to fill per Verbal Commits. With redshirt senior Christian Gray and redshirt junior Alec Hickman listed as walk-ons on the depth chart. If this is indeed the case, they may have to leave it open with the fall semester already under way and the deadline to make a player eligible for the semester fast approaching.