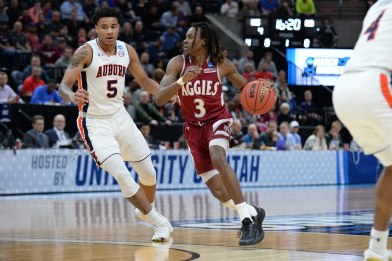 No. 15
Terrell Brown, Sr. G New Mexico State (6-1 170)
Jersey Number to Look For: 3
18-19 Stats: 11.3 PPG 2.6 RPG 1.3 APG (34 GMS)
Brown could have made this list as a March Madness folklore hero if he made that game winning three pointer against Auburn last year. But not all tournament stories can achieve Cinderella status. Brown returns as the Aggies' leading scorer, looking to light the WAC on fire this year with a solid returning group behind him. Well see Brown in three Mountain West games total this year. Including the expected home and home Rio Grande Rivalry series where he had his second best scoring effort (20 points) and one of his worst (6 points on 2-8 3pt shooting) last season. Watch his shooting beyond the arc this season as he made 42% of his threes on the year. 
When to Watch: New Mexico (Nov. 21st), Colorado State (Nov. 25th), New Mexico (Dec. 14th)
No. 14
Carlos Johnson, Sr. G Grand Canyon (6-4 220)
Jersey Number to Look For: 23
18-19 Stats: 14.3 PPG  4.1 RPG 1.6 APG (34 GMS)
Johnson who began his career in Seattle as a Husky came back to Arizona where he had a successful prep career and made an impact for the Antelopes last season. Aside from leading the team in scoring last season he had two 30+ point performances at Utah Valley and Seattle in WAC play. Johnson is an important piece in Dan Majere's plan to dethrone WAC darlings, New Mexico State. But look for him to warm up for conference play against the Aztecs and Lobos this Fall. 
When to Watch: San Diego State (Nov. 13th), New Mexico (Dec. 17th)
No. 13
Timmy Allen, So. F Utah (6-6 205)
Jersey Number to Look For: 1
18-19 Stats: 12.2 PPG 5.1 RPG 2.4 APG (29 GMS)
The former top-100 player in the 2018 class didn't disappoint in his first season in Salt Lake City. The now sophomore boasts great strength with a good finishing ability and as the teams only top three scorer from last season returning for the Utes, count on seeing the ball in Allen's hands often leading a young team.
When to Watch: Nevada (Nov. 5th), San Diego State (Dec. 21st)
No. 12
Mckinley Wright IV, Jr. G Colorado (6-0 195)
Jersey Number to Look For: 25
18-19 Stats: 13.0 PPG 4.9 RPG 4.8 APG (35 GMS)
Wright IV is a dynamic player who can do a little bit of everything for Tad Boyle and the Buffs. He is currently ninth all time in assists at Colorado and could crack the 1,000 point mark this season as a junior. Colorado returns a lot of scoring power from last year and Wright IV should be counted on to facilitate it and chip in. And being three rebounds away from a triple-double last year against Colorado state I am looking forward to seeing what he can do this season this season in Fort Collins. 
When to Watch: Wyoming (Nov. 24th), Colorado State (Dec.13th)
No. 11
Chris Duarte, Jr. G Oregon (6-6 190)
Jersey Number to Look For: 5
18-19 Stats: 19.0 PPG 7.1 RPG 2.5 APG (33 GMS) (W/Northwest Florida St. JC)
Duarte was a first team Junior College All-American at top ranked Northwest florida State last season and did so with flair. The 6-6 guard can really shoot it from deep and when driving the lane or in the open court displayed tremendous bounce and length. I think he will bring something special to help a Mathis and Pritchard led back court. If you want to take a look at Duarte before Oregon's first official game against Fresno State to start the year, check out Oregon's live stream of their Green & Yellow scrimmage on Wednesday Oct. 30th next week. 
When to Watch: Fresno State (Nov. 5th), Boise State (Nov. 9th)