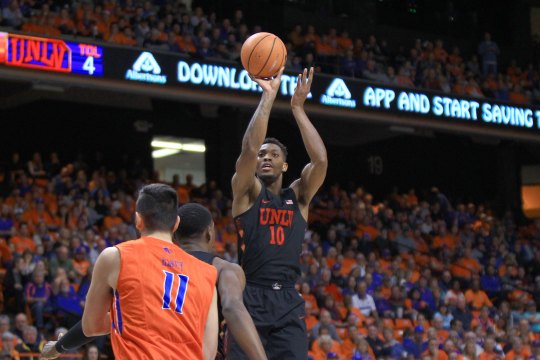 No. 20
Aaron Menzies, Sr. C Saint Mary's (7-3 265)
Jersey Number to look for: 41
18-19 Stats: 11.3 PPG 8.9 RPG 2.3 BPG (34 GMS)  (W/Seattle 17-18)
I was one of the guys looking for Menzies name on the Gaels box scores at the beginning of last season, hoping to see what impact the 7-3 big man from England made. Sadly, even though he was immediately eligible as a graduate transfer from Seattle, a hand injury sidelined him for the whole season. I'm looking forward to seeing him paired with returning big man Malik Fitts who also made this list. To get an idea of how his size can impact a game, Menzies had a 19 rebound performance against Chicago State and a 6 block game against Utah Valley in his last year in the WAC. 
When to Watch: Fresno State (Nov. 20th), Utah State (29th), and Nevada (Dec. 21st)
No. 19 
Trevelin Queen, Sr. G New Mexico State (6-6 190)
Jersey Number to Look For: 21
18-19 Stats: 7.8 PPG 2.9 RPG 1.7 APG (25 GMS)
Queen is a guy to keep an eye on for the upcoming season. Even though three players return who scored more points than him for the Aggies this season, a lot of people in the media like Queen to be the leader on this years team especially following an injury suffered by Aj Harris this past month. Queen's best games from last season came with a conference tournament championship game win against Grand Canyon where he netted six three pointers for a total of 27 points. He followed up with a fourteen point performance in a near upset against Auburn in the first round of the NCAA tournament that would have derailed the Tigers tourney run early.
When to Watch: New Mexico (Nov. 21st), Colorado State (Nov. 25th), New Mexico (Dec. 14th)
No. 18
Dikymbe Martin, Sr. G UC-Irvine (6-1 170)
Jersey Number to Look For: 15
18-19 Stats: 14.8PPG 2.8RPG 2.6APG (33 GMS)
Martin a hometown kid suits up in is last season for the Highlanders of Riverside, he returns after leading his team in scoring last season. Though they struggled a bit (10-23), Martin didn't miss a beat only failing to reach double digit scoring three times on the season. Look for another jump in production for him this year as he doesn't receive much back in terms of scoring help. 
When to Watch: San Jose State (Dec. 22nd), Fresno State (Dec. 28th) and Air Force (Dec. 31st)
No. 17
Paris Austin, Sr. G California (6-0 190)
Jersey Number to Look For: 3
18-19 Stats: 11.6 PPG 4.3 APG 1.4 SPG (29 GMS)
Another familiar name for Mountain West fans, Austin started his career up in Boise and transferred closer to home making an impact in his first year in Berkeley in 2018-2019. The Golden Bears roster has experienced some turnover losing Justice Sueing (Ohio St.), Darius McNeil (SMU), and Connor Vanover (Arkansas) to transfer. Look for Austin to step up this season and lead a young team in an ever changing Pac-12. 
When to Watch: UNLV (Nov. 12th), Fresno St. (Dec. 11th)
No. 16
Shakur Juiston, Sr. F Oregon (6-7 225)
Jersey Number to Look For: 10
18-19 Stats: 10.8 PPG 8.8 RPG 1.5 SPG (8 GMS) ( 17-18 W/UNLV)
Juiston should be familiar to most, and that's because the former UNLV Running Rebel helped dominate front courts in the Mountain West back in 2017-2018 along side fantastic freshman Brandon McCoy before suffering a season ending injury last season through just eight games. The numbers listed above aren't too impressive compared to his 2016-2017 production. But if Juiston can return to his form from two years ago, where he grabbed 15+ boards in three different games. Look for him to be a problem for Duck opponents this year.
When to Watch: Fresno State (Nov. 5th), Boise State (Nov. 9th)