Nevada vs. San Diego State: Three Keys To Aztecs Victory
---
Standing between the Wolf Pack and victory are the Aztecs- again.
---
Contact/Follow @tedmcgovern
Last year the Aztecs humiliated the Wolf Pack in the Mountain West Semifinals.  Will they do it again?
In the last four matches the Wolf Pack are 1-3 against the Aztecs.  This certainly makes coach Eric Musselman very edgy.
After all, during the 2018 Mountain West Semifinals, the Aztecs beat the H-E- double-hockey-sticks  out of the Wolf Pack, bringing fans to their knees…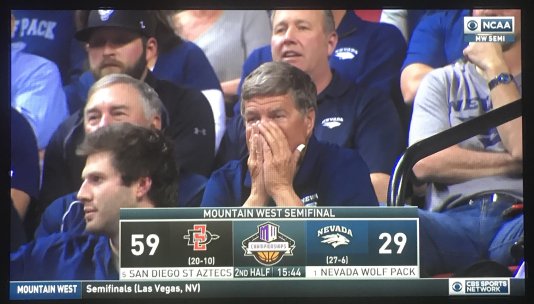 Let's look at keys to an Aztecs victory tonight.
Contain Jordan Caroline
Jordan Caroline can be an unstoppable force.  He plays with great passion.  When the Aztecs defeated the Wolf Pack handily at Viejas Arena, where Nevada did not have home court advantage, they did so without pushing themselves to the edge.  Their successful tactic involved containing Caroline, and they executed perfectly.
Don't Give the Martin Twins Breathing Room
Guarding Caleb and Cody Martin closely will disrupt their flow, and prevent them from lighting up the perimeter.  Close coverage and paint protection will agitate and frustrate the brothers.

Aztecs Brand Defense
No relief- no mercy.  Full court press, lose man-to-man guarding and rim protection from the likes of Aguek Arop, Nathan Mensa and Jalen McDaniels will keep field goal percentage low.  This will have to be executed with precision so that foul trouble can be avoided.
Offensive Confidence
It will take more than break-out performances by Devin Watson and Jalen McDaniels to win this game.  Matt Mitchell, Jordan Schakel, Jeremy Hemsley and the others are going to have to find their groove.  It's now or never.
Simultaneously playing dual senior point guards Devin Watson and Jeremy Hemsley worked really well for the Aztecs during their last victory against the Wolf Pack.
Will the Wolf Pack have flashbacks of last year's ruthless beating?
Tune in tonight.