[jwplayer 18QegcJn-sNi3MVSU]
---
Utah State Snatches 68-66 Win at New Mexico Amid Late Call Controversy
---
Utah State's Abel Porter sank a clutch three after an incorrect call by officials
---
Contact/Follow @MWCwire
New Mexico is wondering what could have been.
This one wasn't a blow out.
But for Lobo gans, the game Saturday between New Mexico (8-10, 3-5 MW) and Utah State (15-5, 5-2 MW) was heartbreaking for another reason altogether.
After not having led the entire game (save for a 2-0 start in favor of the Lobos), New Mexico claimed a 62-61 lead with 5:33 remaining in the second half after Anthony Mathis, held scoreless in the first half, hit his fifth field goal of the second half, a three pointer.
The ensuing scoring possessions were a made three pointer by Utah State guard Abel Porter, another made basket from Lobos senior Anthony Mathis (this time a layup), a jumper from New Mexico's Vance Jackson (giving the Lobos a 66-64 advantage), one made free throw for the Aggies' Quinn Taylor and, finally, a contested three, again from Abel Porter after an Anthony Mathis turnover, resulting in the 68-66 final score.
But, about that turnover. . .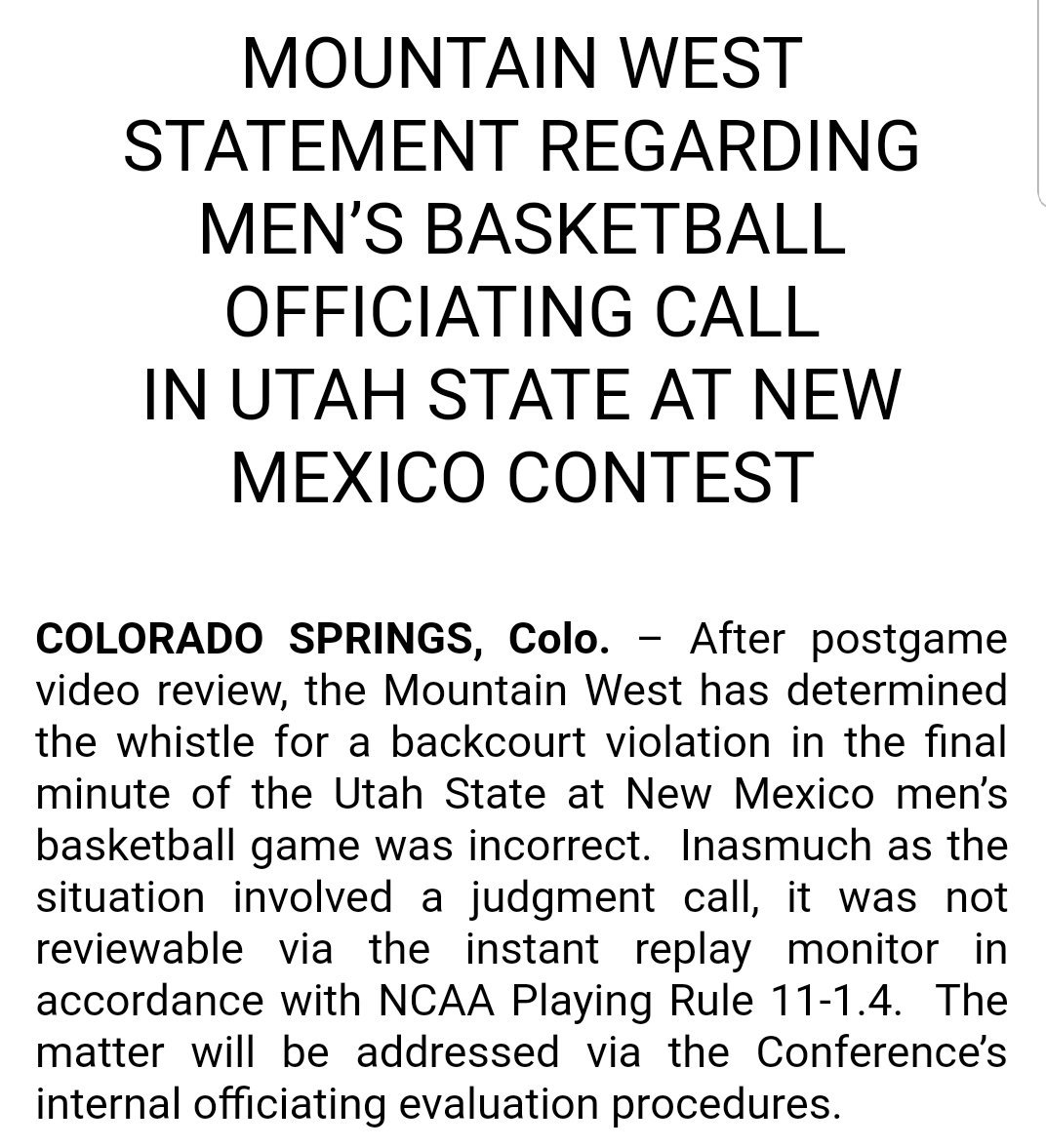 It makes one wonder how this game would have gone had the right call been made but, still, Porter made a difficult shot at the end to seal the victory for the Aggies.
Like many viewers, Lobos head coach Paul Weir alluded to similarities between the call that might have cost them the game and a bad call that went against the New Orleans Saints in their recent NFC championship loss to the Los Angeles Rams.
"I feel like [New Orleans Saints head coach] Sean Payton. . . Unfortunately it was not over and back," said Weir.
He later pointed out that while the call was a critical one, he recognizes that it's not fair to say it's the only reason for the loss.
"I don't want to construe that [mistaken call] as that's the reason we lost. We obviously did a lot of other things, but it just sucks for us right now just to fight back like that in the second half and give ourselves a chance to win and unfortunately one play for us does mean a lot. We don't have a large margin of error where we just go out and overwhelm teams in certain ways."
Stat Stuffers:
Utah State: Sam Merril (22 points, 4 rebounds, 3 assists, 2 steals, 1 block), Neemias Queta (8 points, 12 rebounds, 3 blocks, 2 assists)
New Mexico: Carlton Bragg (18 points, 6 rebounds, 2 blocks) Vance Jackson (13 points, 7 rebounds, 2 blocks, 1 assist)
Up Next:
New Mexico has its first bye game in Mountain West play, then will take on Fresno State in Fresno, CA on Feb. 2.
Utah State hosts San Jose State on Wednesday Jan. 30 at Dee Glen Smith Spectrum Arena.